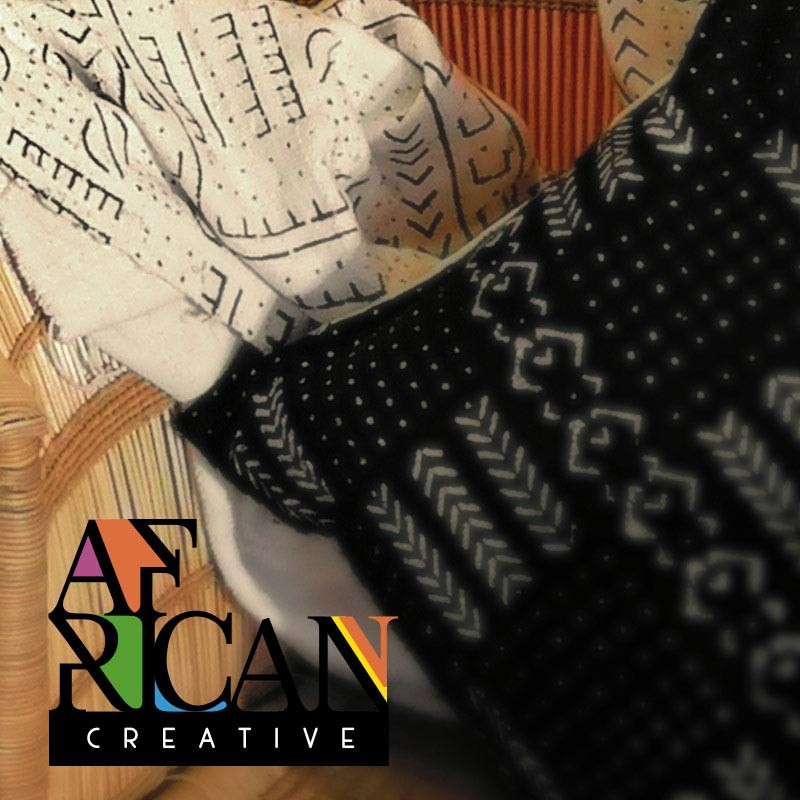 Bogolan's share of fame reaches beyond décor stores. The fabric's geometric zig-zags, dots and squiggles have hit international catwalks with stylish flair. Fashion houses have applauded its authentic beauty for their fall winter ranges this year with catchprahses like 'Givenchy a la Bogolan style.' And we know that wherever fashion ventures, interior design's style crowd and home furnishings afficianados always follow. And the creative appeal and value of beautiful accent décor always makes a bold Bohemian style statement. Lovers of Boho or the unconventional adore Bogolan's distinct look.
Bogolan or Bògòlanfini, in the Malian language of Bambara, is broken into three parts: bogo meaning mud or clay, lan meaning with, and fini meaning cloth. The Bamana people hide names and meanings in the symbology of the geometric patterns of the mudcloth that relate to the use of the fabric and the wearer of it. Understanding these meanings usually remains an enigma especially because the Bamana people treasure their secrets. Bogolan textiles are regarded as precious items and are kept close to the body with the belief that if lost, they could potentially fall into the wrong hands of an enemy or a sorcerer. There are some basic symbols that everybody agrees on though, such as a twirl meaning life and a spiral circle that symbolises the world. Modern home and décor's Boho chic style has these patterns to thank.
The cloths were originally purposed for different events in the lives of tribal people especially for hunters who believe that the designs are imbued with paticular powers or 'nyama' that can protect them in the bush. In traditional Malian culture, bògòlanfini in the home and living environment serves as physical camouflage, and a badge of status. Women are wrapped in bògòlanfini after their initiation into adulthood and immediately after childbirth. It is believed that the cloth and its symbolism has the power to absorb dangerous forces released under such circumstances.
Bògòlanfini patterns are rich in cultural significance, especially the battle between crocodiles which are very important in Bambara mythology and traditional proverbs. Bògòlanfini has become a strong symbol of Malian cultural identity especially seeing that patternmaking is passed down from one generation to another. It's a source of cultural identity and pride as well as a great source for artists and those whose home interior ideas applied to room décor.
The West African textiles are dyed with iron-rich fermented mud by local Bamana families in Mali that leaves its mark on the cloth. In one of the most popular techniques, the cloth is dyed in baths of mashed leaves and branches of the Gallama tree and then sun-dried. Dark black mud is collected from ponds and left to ferment. It's then painted onto the cloth with objects made of metal and wood then left to dry. When it turns light grey it's washed off. Thanks to a chemical reaction between the mud and dyed cloth, a brown colour remains after the mud is rinsed off. This process is repeated until the mud-painted area of the cloth becomes darker. The dyed areas are usually painted with a bleach, and the cloth is left to dry in the sun for a week. When the bleach solution is washed off with water, what remains is the characteristic white pattern on a dark background.
However you use a Bogolan masterpiece, whether its a Bohemian mud cloth cushion or a mud cloth wall hanging, you'll have a true designer piece not often found in home design and home accent's stores – no two pieces are ever identical and tiny imperfections make each design its own.